second-hand Semi-Anechoic Chamber (shielded room)
 An RF-shielded semi-anechoic chamber -multi-purpose environment for radiated immunity and pre-compliant emission testing as an option
Special price
Dimensions:
Overall Structure Dim (H): 3.20 m
Overall Structure Dim (L):  6.60 m
Overall Structure Dim (W): 3.60 m
Internal Working Area (L): 6.48 m
Internal Working Area (W): 3.47 m
Internal Working Area (H): 3.00 m
The chamber is delivered with a single earth stud.
the shielded room  offer a terrific savings over the price of a new room -70% And more
•Shielded chamber from the external signal environment to provide minimum
Isolation of 80 dB from 100Mhz to 6 GHz ,Shield Test Per IEEE-299/MIL-STD 285
•1x Connector Panel, 30 cm x 30cm Clear Opening with 1×2 "N" Type Connectors
•Power-Line Filter  1 x 2 x 20 Amp,AC Power-Line Filter  For Lights And EUT
•Power-Line Filter  1 x 2 x 5 Amp, DC Power-Line Filter
•Manual RF-shielded single-leaf door 0.90 x 2.05m( W x H)
•Two Waveguide Vents, 30.48 cm x 30.48 cm in the Ceiling
•One 1.5 in Pipe Penetration with Cap
•Four corner-mounted Light
♦price include:
♦Local freight costs to ground floor!!.
♦Full Installation by Dolev team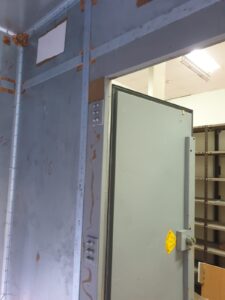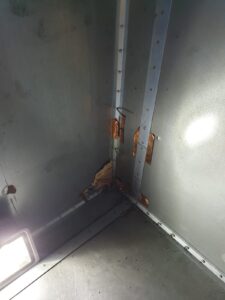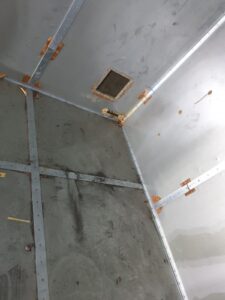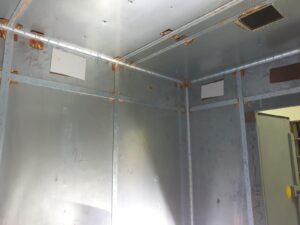 Second –hand Fully Anechoic Chamber
RF-shielded fully-anechoic chamber -multi-purpose environment testing (11 years old )
Frankonia Pan Type Steel construction totally self-supporting (steel beams on ceiling only)
Prefabricated shielding modules made of 2,0mm galvanized sheet steel
Panels are bolted together every 75 mm ,with strong M8 screws and high conductivity RF gasket
there is no wood used for such shielded room panels.
Dimensions
Overall Structure Dim (L): 4.20 m
Overall Structure Dim (W):3.53 m
Overall Structure Dim (H): 2.75 m
Internal Working Area between the absorbers (L): 4.00 m
Internal Working Area between the absorbers (W): 3.24 m
Internal Working Area between the absorbers (H): 2.65 m The chamber is delivered with a single earth stud. Customer must provide the connection to the earth​ (max. recommended value is 0,5 Ohms )
Manual RF-shielded single-leaf door 0.9 x 2.05m( W x H)
1x Connector Panel, 40 cm x 40cm Clear Opening with 1×2 "N" Type Connectors
1x 2 x 20 Amp, AC Power-Line Filter For Lights And EUT
1 x 2 x 10 Amp, DC Power-Line Filter
Two Waveguide Vents, 40cm x 40 cm in the ceiling
Four corner-mounted Light
C-RAM SFC 4 and SFC 8 BROADBAND RF ABSORBER FOR CEILING,FLOOR AND FOUR WALLS
Shielding performance
Shield Test Per IEEE-299»
The chamber shielded from the external signal environment to provide minimum
isolation of 90dB from 200Khz to 10GHz

Option:
1. Modular systems for raised floor, height approx. 150mm, max. load 500kg/m2
2. 2 laboratory tables designed for application-specific needs,
ISO-compatibility